American Staffordshire Terrier
Over the years, we have received hundreds of photographs, letters and e-mails telling us how much proud LAEXOTICA owners enjoy and love their dogs. We have been remiss in not having been more diligent in saving them. In the future, we are going to post many of them to this page
If you are part of LA EXOTICA Family is never too late to send us photos or videos to share
As LA EXOTICA Kennels are very proud of their Kennel and website we encourage all proud owners to send testimonials, pictures and videos as we love seeing our special ones as they grow and so also people can appreciate our quality of pups and how much they are loved in their new homes

Hello Sylvia & Juan,
Just thought we would let you know our beautiful boy is now an Australian Champion and is on the cover of Lets Talk Terriers. You can see the cover at www.letstalkterriers.com .
Could you please send us your postal address so Dogs NSW can send you a Champion's Breeders Certificate.
Regards
Jim & Kim (NSW)
Hi Sylvia,

Thanks very much for letting us see Balder yesterday, he is just adorable; it was all so good to meet! You guys as well, and put a face to the voice. it was great to see how much you care and look after all those pups and bring them in to your home as part of the family. It has confirmed our choice that we are getting one of the best amstaffs around and from a wonderful caring breeder.

Jason & Shelley

Dear Sylvia & Juan:

I am sending you some pictures of Pearl she is now 11 months old and still growing...
she is the best Amstaff I have ever owned (This is the only bread I will ever own, Pearl is my 4th Amstaff).

Her constitution and temperament are perfectly balanced making her a pleasure to live with,this is only the result of your hard work and attention to detail when breeding this awesome bread.

Everyt ime people stop me in the park to ask me about her (She allways atracts attention), I tell them about your impeccable kennels and the amount of caring and love you give every single one of the pups that you sell.

Again thank you for all of your hard work in breading without a doubt the best Amstaffs in Australia.

Dr E. Perez & Dr F. Martinez (Adelaide)

Oreo on a sports day!!!

Hi Sylvia,

Just wanted to tell you about our Amstaff that I got fromyou five years ago.

He is such a great dog and I thank you for that. My Sonand him are the same age and have grown up together. Now they are best mates.

I have attached a few pics for you to see. He is justlike his Mum, Sabrina

Kind regards ,

David - Victoria

Shumba
Proudly owned by Hayley & Paul (Perth - WA)

THE BEST AMSTAFF - MY MATE DARBY

Hi guys its Ben, I got Darby off you last November for an early Christmas present for my two girls. He is their best friend, they play for countless hours in the yard and most weekends we all go to the beach. He loves the water I could not be happier with my new best friend, he hears my ute each night and goes nuts!!, I look forward to coming home every day. Well I better cut it short but I will give you updated photos each year and would love to speak with you about getting him a friend, possibly a female blue brindle around November this year..??? Kindest regards

Ben, Jo, Tahnee, Ameaka and a soon to be born little boy - Adelaide (SA)

Hi Sylvia,

Thought I might e-mail you instead, to give you an update of our little Stella Girl.

The attached pictures were taken before we left Adelaide airport Friday 13th March 2009.(will send updated one's soon)

Stella is the most affectionate little girl who loves cuddles & is growing daily. She has settled in very well to our family home and have been introduced to withour relatives dogs, who she gets along well with (which will come in handy should we go on holidays in the future). Kind Regards

Stacey & Kyle

Sabre's family

Hi Sylvia,

Just a quick update about our beautiful Zeva. She isgrowing well and is fit and healthy. 6 ½ months old now.

A fantasticpersonality, playful yet quiet and so affectionate and gentle. We loveher immensely. I've attached a couple of photos of her for you too.

Thank you for providing us with a muchloved addition to our family.

Kind Regards, Paul & Beryl

Dear Sylvia,

I hope this email find you, Juan and your fabulous army of puppies and dogs well. I am not sure if you remember our little boy (although no longer little!). He has grown up so much and is maturing to be a pleasurable member of our family. He made himself at home as soon as he entered the front door and didn't even whimper as he spent his first ever nights away from his extended family at La Exotica. From the moment Levi came home, his personality and temperament was a stand out. Everything that you have mentioned on your website about your procedure in place to strategically breed these animals for temperament and soundness has been incredibly accurate.

As you can see from the photos, Levi is with us everywhere we go, and everywhere we go, so many people approach us and talk about how beautiful Levi's colour is and how well behaved he is for a young puppy. He even wins the hearts of people that have not associated with "Staffy"breeds in the past or previously had a negative view on the breed.

One thing that has made me so happy with purchasing a puppy from La Exotica and has made me recommend your business to other people is the after sales service you have provided. I would doubt other breeders would have as much enthusiasm and pride to ensure your reputation as a quality breeder is maintained after the puppy leaves your trusty hands.

As you can see from the pictures, Levi is an absolute handsome young boy. I'm sorry for sending so many photo's but how could I possibly choose which not to include!

Kind regards,

Kenny, Melissa and Levi

Michael here, I spoke to you in regards to getting another amstaff pup from you.

Im after a male. I am very very interested in one. thanks

Michael (Sydney)

P.S I'veattached photos of Sniper and Toro they are so beautiful and placid. Iwish I could have brought one with me when I moved out, but my Mum andbrother wouldn't let me as they have grown too attached to them.

Hi Sylvia
We thank you for our puppy - she is better than anticipated -she's adorable and gorgeous blue eyes and great nature - Cleo has fit invery well already and feels very comfortable in our new home - itsamazing! Our children Bailey, Rory and Emily cannot believe how great sheis.

We have given her a middle name too, we officially announce:- Cleo Patra Gilmour

Thanks again for such a smooth purchase. It was worth the wait and expense, Regards
Selina & Dan - Balnarring Beach (VIC)

Hi Sylvia, Hi Juan,

Just thought I'd send some pics of Koda, he's absolutley stunning! People comment where ever we take him. He's sobeautiful natured and him and my maltes ecross are the best of friends. When its hot Koda lets himself into the shower and cools himself down its totally adorable.

Thanks once again for such a beautiful puppy. He's definatley a mummy's boy he follows me everywhere

Ainsley & Carlos (perth)

Mack, highly treasured by the Willcocks family - Adelaide

Piero at 4 1/2 months

Hello Sylvia,

Hopefully you remember me, I bought a puppy from you late last year. I've included our emails to jog your memory.

Firstly I want to apologize for not being in touch since receiving our puppy from you,
I don't know where the time has gone!!

Secondly I want to thank and congratulate you on breeding such a beautiful and perfect companion for me and my wife! From the first day we had him he has been perfect and we wouldn't change a thing about him.
His temperament is beautiful.

The whole process of purchase and delivery was easy and smooth, that was thanks to the way you run your business. Again I want to apologize for not being in touch since he left you. I have attached a photo of him so you can see how he has progressed and grown.

Thank you once again and I hope to hear from you soon. If we are ever in an opportunity to add another dog to our family I would not hesitate to buy through you, and I have recommended you highly to a few of my friends.

Take care,

Thom - Melbourne, VIC

Max
Proudly owned by Mandy & Steve
Perth - WA

Hi Sylvia,

Just thought id touch base and send some pics of Duke that we got off you a few months ago he's nearly 6 months old now weighs 26kg very solid little boy.

Thanks for everything

James and Jess from Whyalla S.A

Hi Sylvia,

Sorry it has been a while in comingbut here are some photo's of Boris.

He has settled in very well and heis a very welcome addition to our family

Thanks

Shane & Dawn (Adelaide)

Hello,

Its Shane whitney from Tasmania,
I purchased diesel off you some months ago,
I am just sending you a pic of him,

Thanks

Its been 6 months and this little man weighted in at 20kg's 2day.
Sylvia thanks 4giving me my best mate, i love him so much he is the best little man ever he is GORGEOUS! He is loving life!
David (NSW)

Hi Sylvia,
Please find some photos attached of Harley (13 wks),
she is turning out to be a really lovely dog, typical puppy drives the wife crazy.
Very affectionate and easy to train.
Thanks
Kerry (Brisbane)
Hi Sylvia,
Thought I'd send you a pick of Harley she's turned out to be real character and of course
runs the house like her own, 17 mths old going on 35. Thanks for the lovely dog we adore her.
Regards
Kerry - Brisbane
| | |
| --- | --- |
| Harlely | The Champ |
Hi Sylvia, Attached are couple of pics of Champion & Harley they really make an impressive pair don't you think. Excellent loyal companions, exceptional guard dogs, I am honoured to have such devoted friends.
Regards Kerry - Alberton Qld
Hi Sylvia,
Best Wishes for the New Year hope all is treating you guys well,
just a quick note that The Champ & Harley are doing well.
Come across a puppy photo of Harley and thought if a photo could sell puppies than this one
will so I attached a copy for you.
"All The Best & Take Care"
Regards
Kerry

Hi Sylvia,

Just a few pics of Balder to let you know hes going great
he is six and a half months old and weights 28 kg
and as you can see hes a great looking boy and quite big all ready.

will send more when he is a bit older
hope you like the photos.

thanks
jason, shelley, jett ,jayda-star (Loxton SA)

What do you reckon???

Hi there Sylvia,
Chewy is settling inreally well and isn't crying at all at night time after the first twonights.
He is a true part of the family now, since one of us is home most of the time, he spends lots of time with us in the house and the kids love him!!! We adore him and he is a lovely little guy,we started him at puppy school on Sunday and we think he is quite clever (but we are a bit biased!!!). Thank you so much for all your help and fantastic communication, we couldnt have asked for a better transition, thank you so much for our little man, we love him!!
Lots of love and thanks, Amie - Adelaide
Chewy - 1 year old now and looking great!

Storm - Proudly owned by Robert (Sydney)

Abron's - proudly owned by Aaron (Queensland)

HiSylvia and Juan,
here is a picture of Lexi and her best friend Diesel, she is14 months old,
she has been through puppy school and has been growing veryfast!
From the first day we got her she had a very distinctive cute yawn that she still hasand makes us laugh till this day,
and her tongue is like a energizer batterythat NEVER STOPS!
Thankyou so much for such a beautiful natured and great looking dog!
Matt andTara (VIC)

Boss - proudly owned by John (Goulburn NSW)

Hi Sylvia and Juan
We hope this email finds you and your puppies well and happy. Sorry it has taken us some time in getting a couple of photos over to you of our beautiful American Staffy, Cooper.
He is is 11 months old now and is growing up to be loving, smart and affectionate dog with loads of personality. He most definitely makes us laugh! He loves nothing more than having cuddles in bed with us.
We have had so many comments on how beautiful Cooper is in both temperament and appearance. We are looking forward to many more years with Cooper and we may becoming to see you soon for another addition to our family, we think Cooper would like a friend! Take care
Asif, Jodie and Cooper

Hi Sylvia,
I hope that everything is well with you.
Just a quick email with some new pics of Chopper. He's getting pretty big now and will be 8 months old next week.
Take care and I hope that everything goes smoothly with Lysandra & Merlins puppies.
Kind regards,
Kevin - Perth, WA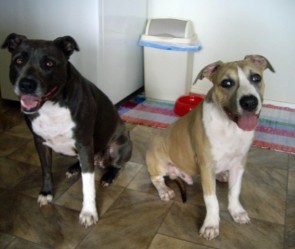 I have attached a few photos. Ali is going great - he loves being around people and loves our girl Dash
(although I think he also drives her crazy some times!!).
He has lots of energy and almost talks to you with all his grunting and growling.
Always very excited to see us after work, loves walking and playing soccer,
and loves snuggling up right next to us at night.
Hope everything is going well for you,
Regards,
Lisa and Corey - Port Pirie, SA

Hi Sylvia
Just thought I'd send you an updated pic of Indigo. She was 8 months old yesterday.
Hope you are well.
Kind regards,
Rennelle & Brian - Perth WA

Dear Sylvia and Juan
Just a quick email to let you know that Brian has settled in extremely well. He only cried on the first night for about 5 minutes. He is loving the fact with have another dog and follows her everywhere and cries when he cannot find her or us. They both have got on so much better than we expected and I am sure this is attributed to being around so many other dogs at your kennels. We are taking him for his next immunization on Wednesday. We all love him so much and he has such a fantastic personality.
Hi Sylvia
Please find a photo taken today of our "Brian" who we got from you last year.
Brian's parents are Merlin and Tomb Raider (Lara). He was born on 26th August last year,
so getting close to one year old. He is such a beautiful boy and our "Gentle giant".
I thought you maybe interested to see a recent photo.
Cheers
Jayne & Jon - SA

Hi Sylvia. Here are a couple of photos of our little man Tyne. He's growing so fast and is such a beautiful little puppy. We will send you more photos as he keeps growing. Thanks
Liam and Ange - Perth, WA

Res - Proudly owned by Jeremy - Pt Broughton, SA

Hi Sylvia,
I thought I would give you an update on our darling Misty. She has settled in well and has us totally wrapped around her little paws. She has skipped primary and high school and has gone straight to University which is where I work.
I work 4 half days a week so she has been accompanying me since her arrival so she doesn't feel she is being dumped just after leaving her mum. If I need to leave her for a moment while at work, I have heaps of volunteers to puppy sit.
Everyone adores her.
Misty has met my sons two dogs both of which are females and totally up to date with their injections or
I wouldn't have allowed them near her. She was a little timid at first but then got up her courage and started to play with them especially Charlie. They were amazing to watch because of the size difference.
"Olive" is the Weimaraner and "Charlie" is the Staffy cross.
My grandsons have visited and think she is just adorable. I have attached a few photos for you. I will have to get my husband to take a few shots of Misty with me. When he does I will send them through to you also.
Anyway, I would just like to say that Misty is everything I could possibly have wanted and I love her to bits as does my husband and all that have met her to date. Thank you once again.
Anna & Vince - Perth, WA

Hello Sylvia!
We received the papers for Maynard this week, thankyou!
Attached are a couple of pictures of him at his local beach
(100m from home).
Thanks again for such a beautiful dog - he has brought so much happiness into our lives!!!
Cheers,
Jon & Kel - Bokarina, QLD


Hi Sylvia and Juan,
We just wanted to say hello now that Rosie has just turned one and fitting in to the family beautifully. She is a wonderfully tempered dog and very intelligent and loving. She has been going on holidays to the beach with us and as you can see from the pictures she just loves the water. She is a great friend to both of our young children and loves their attention. She enjoys being indoors and watches TV with us regularly! She is now growing out of her naughty puppy ways and settling in to be a well behaved adolescent. Her favorite things to do are go for a long walk with her friend Dexter (a Great Dane), having a ball thrown for her and of course getting to lie on the bed with us some mornings!
We just wanted to pass on our thanks again for allowing us to have Rosie in our family and to let you know that she is loved and happy. We hope you enjoy a few snap shots of her from her life with us. We get comments from
everyone who sees her, telling her she is a gorgeous looking dog!
Thanks again,
Melissa, Jason, Thomas and Brooke - Adelaide, SA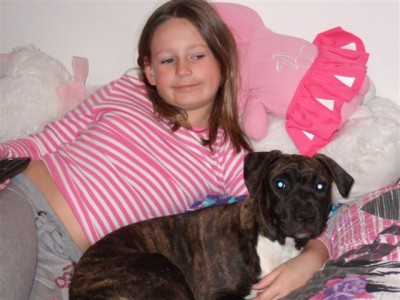 Hi Sylvia
Bindi has been with us for just over a week and she is doing so well. Bindi is full of personality but we wouldn't have it any other way. We absolutely love her and I have attached some photos of Bindi and our daughter Brooke.
As you can see they are thick as thieves. Bindi has definitely made herself at home.
Thanks again Sylvia for giving us the opportunity to have one of your dogs.
We look forward to bonding even more with Bindi and will keep you updated over time as she grows.
Regards
Phil, Lynne and Brooke - Perth, WA

Just wanted to send you a couple of pics of Bree.
She has gotten so big in the last few months.
I wanted to tell u she is going great and she fits into our family perfectly :)
Faloun - Edge Hill. QLD

Shyla - Proudly owned by Tracy - Reynella, SA

Rocket @ 6 months, Whow!!!
Rocket - Proudly owned by Matt, VIC

Sarge & Bella proudly owned by the Pearce family - Adelaide, SA

Hi Sylvia just thought id send you a picture of Res at 9 months he is doing great.
he is just over 33kg now; perfect temperament and has also finished dog obedience training and about to start advanced training in the first week in February.
Beautiful personality he has fit right in to our family can never thank you enough...
Jeremy - Port Broughton, SA

Hi Sylvia thought we should update diesel's progress He is the best dog.
We love him to pieces Such a beautiful temperament I have enclosed a couple of photos one of his 1st birthday.
We had a party
Thanks again
Tyler and Di - Hackham, SA

Hi Sylvia,
It is Sarah & James, we bought a little Blue Ameican Staffy from you about a month ago.
Just a quick email to let you know how our little man is doing and to let you know his name so you can send off the papers. We have named him Duke. He is going great growing bigger and bigger everyday.
We got his second vaccination all done so he is meeting lots of other puppies and having fun.
We are training him and he is gradually learning to sit, stay etc.
He is very entertaining, very cheeky and full of energy!
We are both very happy and lucky to have him, he is gorgeous!!!!
We have attached a few photos of him for you to see how big he is getting.
Thanks again
Sarah & James - Adelaide, SA

Hi Sylvia,
Just sending some pictures through of our beautiful girlDakota. She is now about 7 & a half months.
We are so happy we got her andespecially from a great breeding kennel. She is always so happy, very friendlyand absolutely loves people. She is still a little sook like you said she wouldbe when we got her but we just love her so much and probably made her more of asook ha ha.
Every one that see's her (friends or random's when we are on walks) always has compliments for her nature and especially colour. She loves goingfor walks and of course everywhere we go. She loves her toys and never chewsanything up apart from them.
We thank you for breeding and selling us such abeautiful dog we couldn't ask for anything more with her.
Danielle & Rory - Murray Bridge, SA

Hi Sylvia and Juan,
first of all i would like to inform you we have called our blue American Staff pup "STELLA".
Would also like to thankyou for such a wonderful, gorgeous puppy you provided us as a new member to our family.
She has settled in extreemly well, and is such a joy to have her we will post pictures soon.
Thankyou
Adrian & Felicity - Roxby Downs - SA

I have been meaning to send you some photos of our much loved dog, Dakota who is now 16 months old.
I am sure there cannot be a more loved dog in the world.
She has the most amazing temperament and is stunningly beautiful.
Thanks so much, Cliff, Louise, Emma and Katie - Adelaide SA

Dear Sylvia, Juan and the La Exotica team,
Sorry it has taken so long to send you an update on our American Staffordshire - Frank.
Since making him part of the family in February, Frank has provided us with endless hours of entertainment! He is growing into a beautiful young puppy-man! He has an amazing personality, full of life and adventure (although sometime this leads him to be mischievous). He loves our 12 year old dog Keadis - and the two of them have built a loving friendship. Frank loves a cuddle and is always happy to greet our guests with a big puppy lick and lots of excitement. He truly has melded into our little fur-family perfectly. Frank was sitting on command at 8 weeks old, he now shakes hands, hi-fives and drops, and when walked on the lead he is very obedient with Phill, however, he is becoming too strong for me to control on the lead! At times he is testing, and he definitely has a persistent trait, usually the persistence is wanting to get up on the couch with us!
We cannot thank you at la exotica enough for breeding such a brilliant dog,
and we cannot wait until he is old enough to breed with a worthy dam.
Last week we received his pedigree papers - thank you for sending them to us.
We look forward to being in contact with you in the future when it comes to breeding Frank, and of course when it is time to add another furry friend to our family. Please find attached some progress photos of him
Thank you again
Kind Regards
Phill and Zoe - Port Willunga, SA

Hi Sylvia,
We just wanted to let you know that our puppy has settled in nicely and we absolutely adore her.
We have named her "Ollie" Pace and she is a ball of energy at the moment.
We look forward to sharing some photos with you in the future, she is really something
Thank you and Kind Regards,
Jessica and Dale - Perth, WA

Hi Juan and Sylvia
I have named my puppy "tama" he is doing good and we love him very much, he is a good dog, but we are finding it hard to get him to a training school as we live in the country with no such schools around.
But I am thinking I will start to take a 3 jour drive with him every Sunday to Kalgoorlie to there training school.
Tama, proudly owned by Norman James - Kalgoorlie, WA


Zala loves playing down the river and exploring all things new. She is stunning in looks and temperament!
Zala, proudly owned by Candice - Adelaide, SA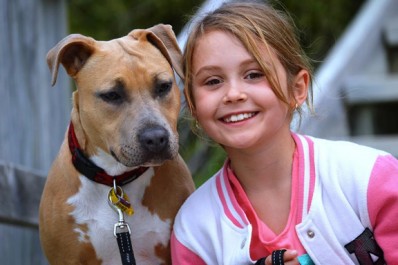 Hi
Just wanted to let you know how Nash (Perth W.A ) is going , we got her from you in May last year
she is the pup of Kawaski and Mapachita.
She is beautiful , absolutely stunning , gentle natured , very gentle with children and our daughter who is 9 she can be super naughty but training is going well she can be stubborn but we win in the end.
Thank you for her , we love her immensely
I have attached some pictures for you
Amanda and Peter - Perth, WA


Sylvia Jachmann
LA EXOTICAKENNELS
Email: puppies@laexoticakennels.com
Phone: 0421077071

"We specialize in shipping around the world"