Italian Greyhound
Over the years, we have received hundreds of photographs, letters and e-mails telling us how much proud LAEXOTICA owners enjoy and love their dogs. We have been remiss in not having been more diligent in saving them. In the future, we are going to post many of them to this page
If you are part of LA EXOTICA Family is never too late to send us photos or videos to share
As LA EXOTICA Kennels are very proud of their Kennel and website we encourage all proud owners to send testimonials, pictures and videos as we love seeing our special ones as they grow and so also people can appreciate our quality of pups and how much they are loved in their new homes


LAEXOTICA AFFIRMATION (Nino)
Hi Sylvia,
Nino's going great and doing well on his lead training and also learning to stack on the table and on the grass.
He is definitely a "food" man lol. I've attached some photos I took of him yesterday - the sun finally made an appearance after 2inches of rain over the past 4 days. He's very photogenic and so regal, I just love him he's amazing.
He loves sleeping in the bed right under the covers lol. He's a smoocher and a lady's man lol.
Talk soon
Cheers
Sue & Nino
1. What is my relationship with the breed? (ie breeder, first time owner etc)
New owner of this breed & amazed at how friendly and outgoing this boy is, especially as he's 6 months old
2. Where and why was the breed first developed?
They are an ancient breed, with a dog resembling the modern day IG found in a 6,000 year old Egyptian tomb. There are also carvings and paintings of them on the walls of the pyramids.
Although they are a"sight hound" they are classified in the "Toy" group and make wonderful companions,
who take their job of being a "lap dog"very seriously.
3. How common is it in Australia?
I believe their popularity is starting to rise, so more puppies are becoming available. At present the general public don't realize that they are actually a separate breed & consequently confuse them for Whippets.
4. What is the average lifespan?
Around 12 to 15 years.
5. What is the general temperament/personality?
My puppy is very confident and will happily interact with people and other dogs, which I think is a huge testiment to his breeder, in the way he was socialized as a puppy. Some though, can be quite shy and timid but once you have their trust they will follow you to the ends of the earth.
6. How much daily exercise is needed for the average adult?
They are an active dog who love to play, and they will happily exercise themselves inside or out.
They do well with a daily walk if that's your thing, but they don't require a huge backyard.
They do however,feel the cold & heat so this needs to be taken into consideration if they are going outside.
They love their jumpers and coats which are a "must have" in the colder months.
7. Is it a breed that a first time dog owner could easily cope with?
I feel that they would be a good choice, as they are low maintenance with regard to grooming, feeding and exercise etc. If you are a"first time" dog owner, regardless of breed you "must" do your research before you invite a puppy into your home. I'm always irked when I see advertisements for puppies that read " will make a great Christmas present". A dog is a living, breathing, intelligent animal and should never be something bought on impulse. A dog is for life and as this breed can live till for 15+ years, it is vital that this is taken into account BEFORE you commit to inviting one into your family.

Dear Sylvia,
Just thought i would touch base with you and let you know how we aregoing with our new Italian Greyhound pup!
From the moment his little feet touched down in NSW he was been nothing but an absolute dream! I took him out of his crate at the airport for a potty break and the moment he hit the ground he jumped into my arms fora kiss and a cuddle with no hesitation. He has taken everything in his stride! He slept in the main bathroom all night and i didnt hear a peep until about 8.30am when i opened the door to let him out, he had used his papers and kept his bedroom tidy!
He is a very well adjusted and happy pooch, loves to play with his ball and other toys and loves chewing on his puppy bone. He has also taken to the duck (Forest ) very well, he isnt interested in him at all, but Forest seems to want to play all the time with him!

He loves Dad, and Dad just adores him. He carries him around at night when its cold in a blanket and whenever he wants to sleep, straight onto his lap! He even cries when he heads off to work in the morning! He is definitely a daddys boy!
He is avery smart boy, walking on the lead, sitting and waiting for his food,using his papers and his new doggy door.
Not once has he been an ounce of trouble and because of this we have christened him Cruz!Because he just cruises! Nothing fazes him!
Daniel and I would like to thank you for bringing back the happiness into our home since the passing of my 18 YO Iggie, Belle. It is wonderful to hear the little patters of tiny feet. We have missed it.
Thanks again.
Ally, Daniel, Forest and Cruz (NSW)





Tommy - Proudly owned by Anneliese and Matt - Roseworthy, SA



Merry Christmas from Ron, Nyrelle , Bella and Gus.
Hasn't she grown into a beautiful girl? she has a nature and personality to match also!
Ron , Nyrelle, Bella and Gus - (VIC)

Hi Sylvia,
I purchased one of your puppies some time ago now "La exotica Prado". She is doing very well and is very much a part of her family.
If you would like to see one of her puppies that is doing very well in the show ring and has been winning BOB since minor puppy i have put in the link for her profile on dogzonline.
It would be great to here from you shortly. Warmest Regards
Ashleigh (NSW)

Hi Sylvia,
Thought I'd send a quick email to let you know Dante is doing great! He is SO funny! A very entertaining little man. It's amazing how much he's grown already, he'll be off to get his 12 week shots next week. I've been having a little trouble toilet training him but my chihuahua was the same in the beginning, took about 6 months for him to be fully house broken some I'm not too worried. He's good most of the time but gets a little excited at times and thinks he'll just go wherever he is! We'll get there though! He already knows how to "sit" and "drop", learnt both commands very quickly too.
So, all in all everything is going great guns thus far. Thanks,
Bianca - Carnegie VIC

Hello,
I'm Ami, I bought female italian greyhound. She was born in 30th of April in this year.
I just thought to send some pictures of her because everybody see her always say gorgeous ;-)
She's doing really good. She's friendly, clever and listen to us well.
She comes to us immediately once we call her.
She doesn't bark at all which is very good even when we having meal, she just waits her meal at her place quietly.
Also she's never done bad thing. She doesn't bite, only bites her toys.
She doesn't jump up on a sofa unless we allow her to.She doesn't enter kitchen and room unless we allow.
And she's just lovely!
So just want to tell that we are so happy to be with her and thank you.
Ami & Khomson (Sydney)

Hi Sylvia,
This is just a quick e-mail to say thank you for being so good to deal with. My puppy Nettie is a pappy, healthy little dog, clearly of exquisite breeding, who is obviously well socialized outside when she needs the toilet, and she comes when she is called. You must have put some training in already, so thank you very much! already. She asks to go
anyway, thanks again. It has been a pleasure to deal with you. I I ever need to get another puppy again, or I know of someone looking for a puppy, I will certainly recommend LAEXOTICA. You are extremely professional.
from Miranda (Melbourne)

I Thought you might like to see how beautiful Merlot has grown up to be.

She has a wonderful nature, very playful and loves evening cuddles on the couch.

Thanks again for breding such wonderful dogs.

Cheers

Renate

Please find photo's attached.
We are very happy. He is a dream to train but already to quick for me.
Plus he always barks at me when I say 'no' !
thanks again - Grant

Hi Sylvia,
well their first night went pretty well. they settled in to sleep early, and didn't wake until the sun started to rise. they have been in quite a bit, but still are learning that toiletries are best done outside. i am extremely happy with them both.
Though i am still worried i might stand on one! they are very small underfoot at this age :).
They have taken to their food and are wolfing down what i give them. so far its gone as well as it could go.
So a big thankyou again. just wanted to let you know how well they have settled,
and how happy both myself and my wife are.
Gavin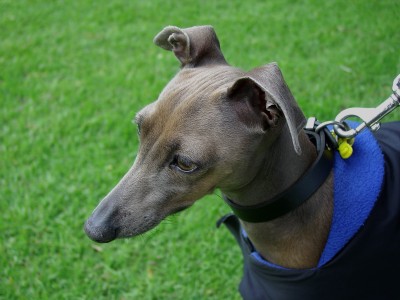 Hi Sylvia,
Well our baby is coming up for four years old. How the time has flown. I have to tell you she is the apple of both her Mum and Dad's eye...has us twisted around her little paw!
She loves to terrorize the cat (and vice verse I might add) however the two little adversaries are really the best of friends and play chaseyaround the back yard. Rhapsody gets lots of exercise and has a healthy appetite. She loves CARROT grated on her food and will chomp on a carrot at any time.
We go on lots of night walks and she knows how to insist on a walk if we are a bit lazy.
The botanical gardens are her favorite day trip. On an extended lead she darts about busily enjoying the smells and sights. She is very obedient. Sits when told. Stops at lights and waits for us to move.
Loves her comfort...and she has three beds dotted around the house. Has a treat or two at bed time and after toilet obediently goes to bed. She loves both her Mum and Dad but has a distinct leaning towards Nola. Jumps into her arms for a cuddle on numerous occasions. If we are sitting watching TV she will sleep at our feet for hours on end.
We have referred numerous people to the la exotica website. Rhapsody is always getting compliments.
Last weight check she was 6.5 kilo's.
Well, I've included a shot for you to see how she is today. We love our baby girl and cannot imagine life without her.
Best wishes to you,
Larry and Nola (Richmond VIC)

(Rhapsody 7 years later!)
Dear Sylvia,
Just a short note to update you on our beloved Rhapsody. She is still the love of our lives. We keep fit by taking her on jaunts to the local park, the Botanical Gardens or sometimes even further afield.
She's a healthy little miss and so very able to make her needs felt. Of a morning she loves to sprint up the passage of our terrace home to the front bedroom to rouse whoever is left in bed. Nola works shift work so she loves to accompany 'DAD' (me) to the railway station to meet 'MUMMY' (Nola) as she gets off her train. The excitement at seeing her MUM is incredible. You'd think there had been a long separation!
Rhapsody is a very good looking little miss and often gets compliments from total strangers she meets on our walks.
She hates other dogs but has a love/hate relationship with our marmalade cat.
The day consists of breakfast (a small bowl of dry dog food) and an evening meal of approx 150 grams of premium wet food topped with grated carrot. We vary the type to give her variety. She loves the carrot. Before bed she insists on a few liver 'treats' and know s about 'toilet' before getting tucked in for the night.
Rhapsody is coming up to her seventh birthday! She's going grey (can't be worry!) as witnessed by the studio portrait in the three attachments. Seems only yesterday she was a puppy. Is her mother still alive?
Well, I hope you can remember us and that you like the way she looks at seven.
She's a stocky little dog but with very powerful in the hind quarters.
Let us know if you remember us.
Larry and Nola (and Rhapsody) - Richmond, Victoria

| | |
| --- | --- |
| Mini and Versace proudly owned by Roger & Sarah (Melbourne) | Mini & Versi in outfits! |

Hi Sylvia
Sorry i haven't gotten back to you, i finally have a picture for you, with the kids, myself and the truck. I was shooting for a calender today and brought them along.
Thanks for giving me my most precious gifts!
With love, Ally, Daniel, Nara and Cruz
HiSylvia, hope all is well, i have some great news and some photos for you.
Firstly,Nara is 50 days pregnant, we are extremely excited and are expecting 7 puppieswhich i am sure will have the same temperament and outstanding presence and bothCruz and Nara.
Wecouldn't have asked for a better pair of dogs!
Wemoved from Sydney to Brisbane recently onto acreage and they both just love it!They go for a swim in the dam every day and Cruz the little character is alwaysready to help feed the horses or mow the lawn. We have a temporary pool erectedhere and he jumps into it on super hot days and has a paddle around, its verycute to watch! We bought Daniel a boxer puppy and just as he helped raise Nara,he was the real Dad figure to the boxer as well.
Very protective and watch fulmaking sure she doesn't get into trouble.
Iwill send you progressive photos as her litter progresses.
Thankyou again!
Ally, Daniel, Cruz, Nara, Supra and the 7 pups

Hi Sylvia,
Here are some photos of little Rocky for you. I am happy if you want to add any to the website.
He is a very adorable little boy.Full of energy and cuddles!
We are starting obedience classes tomorrow night which should be fun.
As soon as he grows out of his biting/mouthing/chewing everything phase, then I would have to say he is the best little dog in the world!!

Anyway, hope is all well there at La Exotica, thanks again , jade & little Rocky
Jade

Hi Sylvia and Juan,
Dudley is 6 months old now, so Katie and I thought we would send you some photos of how he's going.
He is a very happy dog and a pleasure to keep.
There is a nearly pic from the first week we had him and the other ones are recent out the front with a ball and some camera tricks! Hope you like them…
Thanks a lot
Glenn and Katie - Adelaide


Hi Sylvia,
Just a note and some photos to let you know that our two girls are getting on fine and love each other and us and enjoy their daily walks along the Canning River and a free run when they go to our country property Tia loves to run.
Tia is going to be sterilized next week she is now 7 months old.
She is just a bit bigger than Gypsy taller and a lot more muscle and length.

Regards Joselyn - Perth

I have sent you a photo of Anya skiing with her Dad
in Dinner Plain Victoria.
She took a bit of persuading to do her business in the cold white stuff...
but generally seems to love our mountain home!
Thanks for you help,
Anya, Proudly owned by Karen - SA

HelloSylvia and Juan,
Just a quick e-mail to wish you both a happy,healthy and safe New Year. Prada has settled in beautifully with our twoother italians and she is quite robust. She was so happy to see that we hadanother two IGs, they all got along together immediately. The vet commented onhow beautiful and calm her temperament is.
The vet said that they were all inbeautiful condition. We took them to Lorne, along the coast for aweeks break over New Years and I cannot tell you the number of people thatstopped us to ask us about our gorgeous italian girls. We told them that theycame from La Exotica Kennels, so a few more orders may come your way. The girlsreally enjoyed their walks and the attention. Thank you for breeding suchlovely pups, they bring us much joy every day.
Steve & Susan -- Melbourne

Corrado isdoing wonderfully. He's grown into a very outgoing boy.
He's 7.2kg and veryexcited to greet all people and dogs.
So his name is really apt for him.Corrado means brave and he sure is a little brave heart.
He hasstolen mine and my husband's heart and has bought so much joy into our lives.
Attached is a proud pic for you I took with my mobile.
proudly owned by Filomena

Hi Sylvia, Hope you are having a good start to the week.
Just a quick email, Thongfar is going good, a littlebungle of energy, :)
A couple of pictures, read the email first, and look at the pictures, you will get a laugh.
Cheers Trevor - Sydney (NSW)
Hi All, The poor pup is just surviving, treat them mean, and keep them keen, his first wash, we negoiated the night before, it was tense negotiation, if he woke up at 5.30am the temperture of the water was cold, with a little ice, 6.30am just cold, 7.30 it warms up, 8.30 like a luxury spa, well,he woke up at 7.30 and we crashed on the lounge till 8.30, so the beneift of the doubt, I set the temperature closed the door and gee he could hold his breath ,a little tired after, sparkling clean, you should try it. T :)
Sky one year later!

Dear Sylvia,
Just an email to let you know Iggy (after the punk rocker & because Italian greyhound is often IG for short) has settled in really well. He is very smart & has learnt to sit, shake and travels well in the car.
He loves his new family and at first had trouble being alone but is quickly learning and doing really well.
Iggy is very social & loves all my friends & extended family. I'll keep you updated. Regards,
Bethany - Wollongong, NSW

Alfi - Proudly owned by Wendy - Melbourne

Hi Sylvia and Juan
We thought it was time for an update. Attached are two photos of our boy Dante. As you can see he has grown into a very striking dog. Every time we take him out we get comments on how handsome he is. He is still a very lively puppy (8 months now) but likes nothing better than a cuddle, he is a great smoocher. He has gown quite tall and measures 17 1/2 inches. Dante and our girl Iggy, Poco, have great fun playing and charging back and forth through the doggy door or tug of war over a toy. He is a glutton with his food and it is gone in seconds so we have bought him a special dish called a "Scoff Stopper" and that slows him down. Dante is still a bit timid with other dogs (especially big ones) but he is getting much better. Yesterday we took him to Dogs Victoria's Big Day Out For Dogs and he was quite good with all the other dogs that were there. He has now graduated from puppy school and is in level 3in beginners obedience class.
Best wish for Christmas From Marilyn, Jim, Poco and Dante

Hey guys, Christey and I have had igloo (iggy) for a few months nowand he is great.
Here's a pic of him on his holiday road trip. Have a great new year and thanks for a cool little guy.
Marcus, Christey and iggy.

To La Exotica Kennels - Sylvia,
On the 5th of November I picked up the most amazing puppy from Sydney Airport - Riley David Hunter. He melted my heart from the moment I saw him, he was tiny, blue and shaking like a leaf... I took the little cage and popped him in the car and off we went home to bond. Riley David fast became the head of the house, the boss at the park, the leader of the pack and bit of an icon I have since found out of Sydney. Riley David had the most amazing attitude to life, he was confident and nothing stood in his way... except a staffy from time to time. I know everyone thinks their dog is amazing... but this little guy really was, people say they have the same personality as their owners... I can assure you that Riley David sure did... even the A.D.D. Afterall he was a Virgo just let me!
However and with great sadness, on the 22nd of January Riley David slipped his little crazy head from his collar and ran across a main road. His training came in handy as he sat on the corner before he ventured out. Riley David never made it to the other side. At 11.30am on Saturday he was killed instantly by a car. The crazy thing is that I know he would've gone out with a massive smile! He always bounced around with a smile.
I want to thank you from the bottom of my heart and everyone that met Riley David for giving me such an amazing gift. I know he will be in doggy heaven right now with an endless supply of toilet roles to destroy, socks, undies and bras to steal as well as roast chicken to eat. I know I can never replace Riley David but I will honour him by getting another Iggy to love as he showed me just how cool an Iggy was.... the crazy times will continue.
Here are a few pictures I would like to share - He may have only been here for a short time, but I can assure you it was a great time.
Riley David Hunter (4-9-10 - 22-1-11) : Loved by Phillip, Kate, Rose and everyone he met.
See attached for pictures and video.
Thank you again,
Phillip
Please click her to watch Phillip beloved Riley David Hunter's Video

Hey guys,
Sending you a few update pics of iggy (igloo) - now 17 months old and no more wiser ... But amazing!
Cheers
Marcus, Christey and iggy.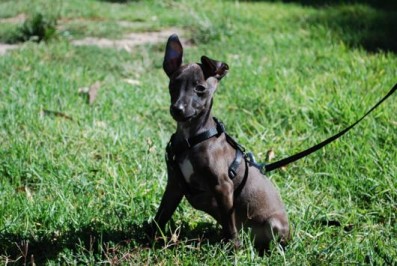 Hi Sylvia,
Just letting you know how Guiseppe is going. He is a clever, healthy, beautiful outgoing little boy. He comes to school with me and all of the kids love him. He is getting well socialised with kids and dogs and has even been to the beach.
He does all his toileting outside and is learning basic commands.
Everyone that sees him always comments on how cute he is and ask if they can have him.
Thank you for giving us this precious gift.
Here are a couple of photos of him in both his states of sookiness or hyperactivity.
Russell and Serena

Hi Sylvia,
Pups just had their second vaccination and are growing nicely.
Guiseppe is a daddys boy and Sienna is in love with mum. Just the opposite of what we thought!
I will keep you posted on how they are going and send through some pictures when they start to stretch out and get big.
Thanks for everything.
Russell and Serena - Nairne - SA

Hello Sylvia
Just a quick note to let you know pups are going great, made themselves right at home and are ruling the household already!
We have named the dog Sterling and the bitch Pippa. They are both adorable and full of character. Toilet training is going well, getting better each day. They keep each other company at night so neither of them cried one bit not even the first night which was good.
They haven't ventured outside much yet as it has been really cold but that seems okay by them, much nicer inside with the kids on the couch!
Many thanks
Julie - Vic

Hi Sylvia and Juan
This is Alex and Graham from Gepps Cross who bought "Pippa" the little white Iggy with black patches on her head. Sorry it has taken so long to update you on her progress...we've been a little distracted hehe!
Pippa is coming along great, she hasn't grown a lot since we got her but her nose and legs are definitely longer and she's developed lots of very cute black spots on her white fur.
We take Pippa everywhere! She is now a lot happier going in the car but is still not too pleased with her harness and lead but we are getting there. She loves playing with her toys, sunbathing and sleeping on OUR electric blanket (must confess have now bought her, her own heat pad for her bed!). She also has several little jumpers now...will probably need her own wardrobe soon!
She is very confident with other dogs, new dogs are usually more scared of her because she's just so baouncy! She has just started coming to work with me and loves playing with the other vet and nurse's dogs in the garden. She is also very clever as she can sit, come when called, fetch and stay, we are now learning to lie down which shouldn't take too long because she loves her treats!
Thank you very much for our little girl, we are so happy, couldn't have picked a better dog for us, will send you more pictures of her as she grows.
Regards
Alex and Graham - SA

Hi Sylvia,
Thought I would send through a quick pic of Saffie. She's growing up very fast. Such a lovely puppy.
Cheers,
Jay - Melbourne

Hi Sylvia,
Thought you might like an update on how Donna Bella is going.
She is settling in well – very loving, full of mischief.
She settles down well at night and her toilet training is progressing well. She loves having visitors.
Attached are a couple of photos I took about 10 days ago.
Notice the shape on her chest? I found the phenomenon interesting.
Will send a further progress report soon.
Kindest regards,
Pam - SA

This is our wonderful little girl Kasey, Thankyou so very much Sylvia and Juan.
Kasey has settled in very quickly and already sits on command.
She loves my two teenagers and they love her too.
Hubby was not keen on our new love but it only took Kasey a couple of hours to win him over,
I find her constantly in his arms or lap. Kasey is such awarm,friendly and loving dog.
Thank you heaps from all my family
Jayne - SA

Hi Sylvia, We hope you are well and life has been kind!!!
Just thought Id drop you a line to let you know that Emily "Hummingbird" is doing very well and loving life. We are extremely happy and over joyed, to have Emily, I have had many a tender moment with her. We are in love.
Emily is very much a "Mummies girl"
I have made a face book page for Emily, I'm hoping it might be a good way of meeting other people with Italian Greyhounds in our area...also acting as a buffer. I tried to send you an invitation to join, Thought it would be easier for you to see what the little miss has been up to, when ever you like. I have taken some video's that are yet to be put on the computer.......looking for my leads.
I'm hoping my girlfriends decided to go with an Italian Greyhound, so I will be passing on your contact details. It would be nice if they were to have a little brother or sister too Emily.
I'm positive Belinda is enjoying her little boy, he was just as lovely as Miss Emily.....I could have taken them both home.
If you are in contact with Belinda Please pass on Emily's contact details to join face book and my regards. I hope everything is going well for them. I would love to have a picture and name of the little guy to add to Emily's Page.
It would be good to stay in contact...in this way.
emilyhummingbird@hotmail.com
emily hummingbirdpuppy Face book
We took her to the vet last Monday for all her up to date meds and to be microchiped.
Everything seems to be fine, she has settled in very well
and is a very happy little girl....and very, very, very smart!!! Next job, I am looking at puppy schools for her to join....when the time is right. Okay that's about it for now. I shall keep in touch.
Take care Sylvia!!!
Kind and best regards, Leisa - VIC

Mica & Sumi Proudly owned by John & Lindy - Port Macquarie, NSW

Enzo - Proudly owned by the Gregory family - Perth, WA

Autumn Pink - Proudly owned by Fiona - Thursday Island, Qld

Hi Sylvia, Just a note to say how beautifully my little Italian Greyhound girl is settling in. She has a beautiful, friendly personality which is a credit to your breeding and upbringing, not to mention her good looks.
Thank you so much for letting us meet Juan at Melton as it saved us hours of driving in heavy traffic.
I have called her Tia and she is winning hearts with everyone she meets.
Thank you again, will be in touch soon.
Tia - Proudly owned by Robyn - Melton, Vic

Emily Hummingbird - Proudly owned by Leisa - Camberwell, VIC

Hi Sylvia,
I haven't sent you any news or pictures since Ive had Bobby so I thought you were overdue for a pic on Bobby's birthday.
I absolutely love him. I now have another girl IG who was given to me, 2 months younger than Bobby.
But he is my best boy!
He is so protective and loyal, but he likes to try to intimidate other big dogs at the park, so maybe some training needed....
Any way thanks you for giving me such a beautiful puppy,
I just adore him and he is thoroughly spoilt and happy.
Regards
Hannah - Perth, WA

(Italian Greyhound vrs Greyhound!)
Stella proudly owned by Joe, Belmont - WA

Sylvia,
It's been a year today that I picked up Levi and I just wanted to let you know he is continuing to ruin my life - jokes.
He is the most amazing thing to happen to me!
Crazy as all hell but gorgeous, spontaneous and full of life.
Thank you again!
Phillip - Sydney NSW

Hi Sylvia,
Just wanted to thank you for helping us get Little Rosie to Newcastle safely. She is just so sweet.
We are very impressed with how relaxed and easy going she is. She has settled in (so far!) really well,
even sleeping with our other dogs.
She is just so playful and affectionate. This is a credit to you!
Thanks Again
Lea and Gareth

Worms - proudly owned by Amber - Brisbane, QLD

Hi Sylvia
Thank you so much for the most delightful and confident little puppy. He is so well socialized and gets along so well with Fergus. He also gets along very well with my 15 year old Havana cat and has been napping with him in the sunshine.
I'm very impressed with the way you run your kennels and the temperament of your dogs.
Well, I've finally settled on a name. I have called him MILO.
Are you able to let me know what his siblings have been called please?
Fergus is now 3 years old and this has been the first time ever that he has been tired out. Little Milo chases him and plays with him all the time between his rests. They're both quite boisterous but Fergus is very gentle with him and very happily shares his toys with him.
Milo has only had a few wee-wee accidents on the tiles the first couple of days when he became over-excited playing with toys. Since then, without any encouragement, he has gone into the garden to do his toilet every time.
He is crated next my bed and has his own little electric blanket and a night light. He wakes me once or twice during the night with a little whimper to go out to the toilet. He has never soiled his bed. He very happily goes into his crate at night to sleep after I've put his little Mongolian wool jumper on him.
Fergus and I love little Milo dearly. He settled in so easily that it's hard to believe he's only a little puppy.
I've attached some photos for you.
Warm regards, MIRANDA, Fergus and Milo - Adelaide, SA

Sylvia,
Thank you for sending the Pedigree papers for Ninja. Although we think we should have called him Devil.
He has become a beautiful looking well balance dog.
When we take him out we always get heaps of comments on his looks and how bright his coat looks.
He has a particular liking for Sox and Handkerchiefs even freshly washed ones and goes to great lengths to seek them out.
Some photos attached
Chris - Sydney, NSW

Hi Sylvia and Juan,
Donna Bella will be 2 years old tomorrow, so I thought you might like an update and some photos (attached).
She has grown into a beautiful young lady; is happy, friendly and playful. She likes nothing better than playing with her little tennis ball indoors and her big tennis balls in the garden – a very clever catcher.
She is very loving, snuggling up on my lap in the evenings and up against me at night – she makes a lovely warm hot water bottle, especially when my back is giving me agony.
Last year I went overseas for 3 weeks and she stayed with my daughter and her 3 dogs – a geriatric Chihuahua and 2-year old Max (Husky) and Toby (Poodle x West Highland Terrier).
Max the Husky simply adores her, and she had no problems while she was with them. If she whimpered at night he would go and check on her, give her a lick and make sure she was settled. I even got her a gift from England – 'Harry from Harrods'; I couldn't resist it. So, now she's the Paris Hilton of the doggy world!
She's has quite a few doggy friends, including another Italian, 8 year old Minty. In the photo, Minty is the little tan Italian, and the dark one is Maisie. They are much smaller than Donna. There's also an older dark one, Fabian, who lives just around the corner from me.
I simply love her to bits, and don't know what I would do without her.
She has given me a purpose since my Jim passed away, and brings me great joy.
Thank you for allowing me to have such a dear little girl.
Kindest regards,
Pam - Gumeracha, SA

Hi Sylvia, Just letting you know Marley travelled well and is settling in very well.
We love her to bits already. Thank you so much .
Marley, proudly owned by Dianne - Waikerie, SA

Hi Sylvia!
Just letting you I have named puppy "Basil." He's doing very well, settled in almost straight away.
I'm so impressed with his laid back attitude to everything, he's so confident and curious. I've attached a picture of him with his favourite toy (apart from leaves - loves attacking fallen leaves!)
Thanks so much for breeding such a quality little pup, he is very loved and I will keep you updated as he grows :)
From Tracey and Basil
Hi Sylvia,
Basil is going so well, he's the happiest, cheekiest little man and we love him so much. I think he might be a bit fat though, he loves his food!
We've just made the move to Melbourne for my work and my boyfriend and I would love to get Basil a little friend.
We were wondering if we could put a deposit down for a female italian greyhound in your next litter?
Here's a photo of chubby basil on his throne :)
Thanks
Tracey

Thor and Lira - Proudly owned by Mel and Chris - Melbourne, VIC

Hi Sylvia
All going well with the little puppy and he has settled in really well.
He has a beautiful temperamentand is very playful and curious about everything.
He started puppyschool on Sunday and he enjoyed playing with the other puppies!
La exotica bella suricato - Proudly owned by the Cilia Family - Melbourne, VIC

Hi Sylvia its Colette just wanted to let you know that Doris is going really well, she is very beautiful both her looks and her nature and Mike and I feel blessed to have her, you raise beautiful Italian greyhounds, all the people that pass her think she is adorable, she is growing into her shape and we will send some pictures soon.
Thanks once again
Doris - Proudly owned by Colette - Teneriffe, QLD


Hello Sylvia
I thought you might like to see some photos of Allora.
She has almost been with me for 12 months now, and I absolutely adore her! She is doing very well.
Kind regards
Ailsa

Hi Sylvia
Merry Christmas, this is our little Doris Day.
She is a beautiful dog, very loving.
Have a good new year.
Colette

Hi Sylvia,
Hope you've been well. Basil had his first birthday recently and we had a little celebration for him. He's grown so quickly! And we always get comments in how beautiful he is wherever we go.
Here's a picture of him being a mer-dog at our local beach. We were wondering if there was a little fawn girl in your latest litter for a friend for Basil?
Thanks
Tracey & Basil

Hi Sylvia and Juan,
My beautiful girl, Donna Bella, is 3 today so I thought you might like an update.
She is going very well – a happy, playful girl, who is maturing into a lovely young lady.
Hope all is well with you and all the dogs and puppies.
Kind regards,
Pam, Adelaide, SA

Lenny - Proundly own by Rachel

Bella Suricato - Proudly own by Fred & Anne - Melbourne, VIC

Hi Sylvia
I just wanted to let you know that our puppy is settling into our home. He is such a beautiful dog.
We have named him 'Mycroft' for your records. If you require any further information, please let us know.
Warm regards
Leigh & Grant - Wentworth Falls, NSW

Sylvia,
I purchased an Italian greyhound off you about 19 months ago and would like to get him a mate.
Have you got any puppies at the moment.
Thanks
Attached is a pic of our man all grown up (kozzi)
Jeremy - Sydney, NSW

Sylvia,
I purchased an Italian greyhound off you about 19 months ago and would like to get him a mate.
Have you got any puppies at the moment.
Thanks
Attached is a pic of our man all grown up (kozzi)
Jeremy - Sydney, NSW

my first outing!!!
Hi Sylvia,
Not sure if this is all that you need, but we have now named our Italian Greyhound. His name is Dash.
Is that all that you need for us to then receive our pedigree papers?
Dash is doing very well and changed our whole household. He is an absolute delight.
The ladies love him at puppy school and say he is their favorite
Thanks so much for a wonderful puppy.
Kylie - Pearsall, WA

Hello Sylvia
I thought I'd send a couple of pictures of our beautiful puppy
who has taken over all of our hearts.
Emily named her Maisy.
Regards
Darralynn & Emily - Attadale, WA

I've attached some photos of him – he's grown quite a bit now.
Photo1 – almost made friends with our bunny Angus now – occasionally they will even sit together!
Just a few queries though:
- The Microchip registration form, where do we send that too?
- Certificate of Registration, did you need any more information from us for this or was that all ok?
Thank you for such a lovely puppy.
Warm regards,
Sara & Jason - Balcatta, WA


Hi Sylvia!
Sorry it's taken me so long to write you to update you. I just wanted to send you an email to let you know how much we love our little man, and how much joy and happiness he's given us!
His name is Biggie Smalls (after the rapper), he's 4kg at the moment and he's an extremely energetic little pup! We take him for a big run every day down at the local pony club, we just let him off the lead and he runs alongside us and has a tonne of open area to sprint to his hearts content. He's 17weeks old at the moment, and he already knows the commands sit, stay, up, bed, and he is fully toilet trained
(which we are most happy about :P).
He's extremely social, and loves playing with other dogs, sometimes he plays for so long that the other dogs lose interest and start getting angry with him! He also loves people, however he's hesitant of strangers and will bark at people who come in the house until Sarah or I tell him that it's ok.
Sarah and I are currently in negotiations to buy a new house, and as soon as we move into the new place we are going to get another IG pup!
We love the breed and we love Biggie to death, so we want to get him another friend J
Biggie has an instagram account which has over 500 followers from all over the world! If you would like to have a look at his pictures, please click on the following link; www.instagram.com/biggietheiggy
Just thought I'd email to let you know how he's going,
and let you know how happy we are with our fantastic newest family member!
Thanks once again,
Nic & Sarah - Karana Downs, QLD

Hi Sylvia
Our beautiful little Bella has settled in perfectly!



Bella, Proudly owned by Lyn - Townsville, QLD
She is a cheeky little dog, with a big spirit and a cute little bark, and totally gorgeous.
Everyone who sees her falls in love with her at first sight.
Even my mother can't resist her charms!
Her spots are coming out even more lately and it makes her look even cuter, and she takes forever to get going when she wakes up!
We have enrolled her in puppy school and she is the liveliest in the group.
We are spoiling her rotten and she has a mountain of toys, but she plays with all of them every day.
I've included a couple of photos for you.
Regards
Lyn

Hi sylvia
His name is Rudy. Thanks so much.
He's doing really well, he's such a cutie, but lots of mischief!!!
Thanks again,
Jennifer - Goonellabah, NSW

Hi Sylvia
Just wanted to let you know Mia is doing well in Perth... Such a sweetheart very very happy puppy ... Grace is over the moon to have a new friend....
Cheers Tracy - Perth, WA



Hello Sylvia

I have attached some pictures of our beautiful Maisy so you can see how she has grown.

Regards Darralynn & Emily

Perth WA

Hi Sylvia,
Just wanted to let you know that Willow has settled into her new home very well, she is such a joyful little pup!At 9 months old, she's starting to look more like her mum Prada.
She is very outgoing, loves to meet people on the street, particularly great with kids.
We get so many compliments on her friendly nature and her cuteness!
A bit about Willow:
She enjoys playing with friendly giant dogs - she thinks shes huge!
Loves to burrow under the doona at night & enjoys a good weekend sleep in. Such a snuggler,
Very clever at finding human food to eat - including cheese, salami & smoked salmon.
Loves to twirl on command, shes a great little dancer on her tall hind legs.
I hope you enjoy these photos, a few that I captured in her day to day life.
Could not be happier to have Willow - thank you.
Wishing you and your family a very special Christmas!
Kindest regards,
Tamara

A nice photo of Bella and Pixel on holidays with us last September, they are a joy.
Hope you are well
Ron and Nyrelle

Dear Sylvia and John
I hope you are both well.
It's been a year since we brought our beloved Luigi home with us and I thought you might like to hear how he's getting on.Luigi has the sweetest nature and loves to be cuddled.
He's rather mischievous and loves stealing anything within reach and running off with it! However, he's very well behaved and walks well on his lead (most of the time) and just loves the beach.
His best friend is our Jack Russell and they play mad games together. He's had a couple of visits to the vet as he seems to have a rather sensitive tummy but the vet loves him too!
Here are some photos.
We'll keep in touch to let you know how Luigi is. We love him so much.
With kind regards
Fiona - Adelaide, SA

Hi Sylvia,
his Lordship is called Fernando and he is ruling our household.
He is much loved and the brightest dog I've ever met.
Many Thanks Louise

Hi Sylvia, his name is Rudy.
Thanks so much. He's doing really well, he's such a cutie, but lots of mischief!!!
Thanks again,
Jennifer and Rudy.

Hi Sylvia,
I just wanted to give you an update on our gorgeous puppy who the kids have named Trixie.
She is an absolute delight. We are all besotted with her.
She is going to puppy preschool each week but we are going to have to toughen up with her or she will rule the house!
I have sent microchip paper off today
Kind regards
Lisa - Coogee, NSW





Ringo - Proudly owned by Sonia - Adelaide, SA




Roger and Sophie


Hi Sylvia,

It didn't take little Roger long to feel at home with Sophie. Thank you


Proudly owned by Brenton - Magill, SA







We could not be happier with Zeta.

She fitted in from the time we picked her up at the airport.



The Griffiths family - Marangaroo, WA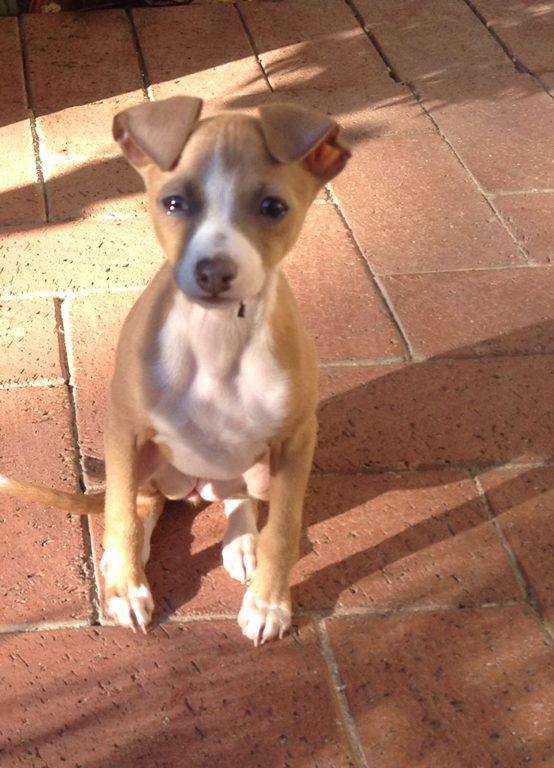 Dear Sylvia

I thought I would just keep you posted with a few pictures of Iliana.

She is a delightful little dog and seems to be settling in very well.

We all love having her around so much, and she seems to agree!

Two of her favourite things are cuddles and sun baking.

Thanks very much.

Regards,

Philip - Perth, WA





Hi Sylvia,

Just thought we would touch base and let you know how 'Fynn' was going. He's settled in extremely well and is enjoying roaming our acreage.

He is a very happy, outgoing beautiful little puppy who love bounding around the grass and wrestling with his favourite toys. He is doing very well with his toilet training and has had only one accident.

Elmo our older dog who was grieving has pepped up since he arrived and as much as he pretend to be annoyed by him, their daily 'chasey games' around the house yard tell a different story.

Fynn is the apple of my husbands eye which is lovely as he was struggling with the lose of our last IG. But Fynn has brought life to the household and has fitted in perfectly.

I have attached some photos of his crazy antics.

Thanks again for the beautiful puppy.

Jenn





Hi Sylvia,
Elizabeth here, just thought I would send you an email to let you know how our Italian Greyhound, Luigi is going.
He is almost 19 weeks old, time flies by.
Luigi has become such an important member of our family, we love him dearly. He has grown into a gorgeous boy. He is very cute and has a delightful personality.

He enjoyed Puppy Preschool and loved socialising with the other puppies in the group. He was by far the most outgoing and playful puppy of the group. He graduated last week.

He is such a clever boy and learns everything I teach him very quickly. He knows how to sit, stay, come, shake, roll, drop. He has also learnt to wait at the door politely, while all people walk in first.

He is now toilet trained, but it was never really a big deal, thanks to your fabulous work with him. I think he only really had three accidents in the house. He is now fully vaccinated and comes on my daily walks with me, he has learnt to walk at my hill and does a fabulous job. I was so worried about walking him as I had heard how hard training can be, but he was an angel right from our very first walk.
He loves wearing his little jumpers, I think he has more than me. He has at least 15 different jumpers to choose from.

He loves chasing his daddy around the house and shaking his toys in his mouth. He plays really well on his own. He loves carrots and other treats, he throws them around the house and chases them.

He loves his comfort, he has his very own large bean bag and loves finding the perfect comfortable spot to lay or sleep. He loves carpet and rugs because they feel soft on his feet. Sometimes if we tell him to 'sit' he will run to a soft surface and sit on that. He has taken a liking to a particular carpeted room in the house, I don't know why he likes it so much but if he goes missing that is where we find him every time.
He loves laying and sleeping in the sun on the grass, but if it is too cold he comes running to come back inside.
I have attached some photos of him. I hope you enjoy looking at them.
Kind regards,
Elizabeth and Gabor.



Houston






Whitney




Hi Laexotica,

Just sending some photos to show you how the babies are settling in to our new 'country' lifestyle.
Still as cheeky as ever. Much love from Whitney & Houston.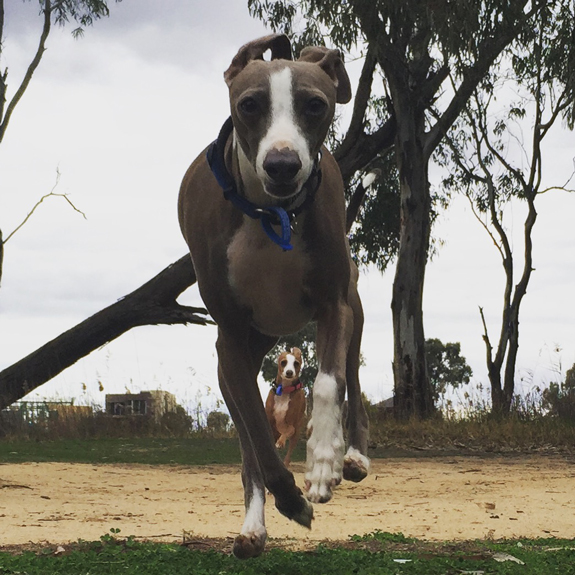 Hi Sylvia,

I can't believe that Donna Bella will be 5 years old in two days.

She has matured, but still a happy playful little girl who loves people, and of course like all Iggies, loves her warm bed.

Her best playmate is Minty, an 11 year old. They love going for a run in our local park, and we take them each year to West Beach for the 4 km Walk-to-Defeat MND. They love to play on the beach, before going with everyone for the walk to raise funds for MND.

Hope you, the family and all the dogs and puppies are well.
Thank you for my lovely girl; she is so precious to me.

Best Wishes,
Pam - Gumeracha, S.A








LAEXOTICA Iggy and LAEXOTICA Pipper

Proudly owned by Linda - Darlinghurst NSW







LAEXOTICA Lenny - Proudly owned by the Walters - Skye, VIC


LAEXOTICA Stanley - Proudly owned by Ashley - Sydney, NSW








LAEXOTICA Alessio - 2nd place at the Singapore's show


Sylvia Jachmann
LA EXOTICAKENNELS
Email: puppies@laexoticakennels.com
Phone: 0421077071

"We specialize in shipping around the world"